John Evans guilty of sister-in-law Mary Evans Luton murder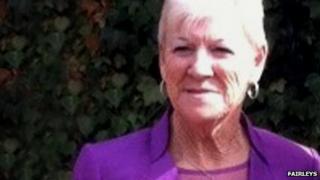 The brother-in-law of a 70-year-old woman who was fatally stabbed at the wheel of her car in Luton has pleaded guilty to her murder.
Mary Evans was attacked in Trent Road on 18 November. She was on her way to collect her grandson from school.
John Evans, 56, of Thames Court, Luton, appeared at the town's crown court via video link on Friday.
Evans was told his case was being adjourned and he would be sentenced next month.
Mrs Evans, known as May, married the Evans's brother David six weeks before her murder.
Judge Michael Kay QC said Evans would receive a life sentence - the only question to be decided was the minimum term he would have to serve.