High Court allows second Watford allotment challenge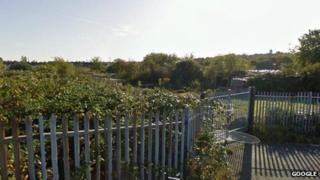 A group opposed to building a health campus on 118-year-old allotments can challenge a government ruling, a high court judge has said.
The Save Farm Terrace Allotment group asked for a judicial review into Communities Secretary Eric Pickles' decision to allow land behind Watford Football Club to be developed.
Campaigners say the historic allotments could be incorporated in the plan.
Mr Justice Supperstone decided the "grounds of claim are arguable".
Developers behind the Watford Health Campus project on a 30-hectare site say it is designed to regenerate land between the club and the hospital.
West Hertfordshire Hospitals NHS Trust plans to move key clinics and some surgery there from other parts of the county.
The overall scheme would include shops, a school, about 600 new homes and affordable housing, Watford Borough Council said.
Allotment holders won an appeal against the council's first plan last August, when Mr Pickles reversed his original decision to grant permission to close the allotments.
But this was overturned in December, when a revised scheme was accepted by Mr Pickles.
'Set precedent'
Campaigners believe the allotments could be included "without risking the development".
Allotment holder Andy Moore said it was a "shame" they had had to take the case this far.
"It's not too late for the council and the Secretary of State to change their minds and accommodate the allotments within the development, as the developers have acknowledged they could," he said.
He added the decision will affect other sites which are under threat from development.
"We hope to set a precedent that will help to protect allotments for future generations," he said.
Elected Liberal Democrat mayor Dorothy Thornhill had previously said the continuing legal challenge could put the whole plan at risk.
Incorporating the allotments would lead to a "completely inferior scheme", she said.
The hearing is likely to be in July or September.