Swan heads found at Mount Farm Lake, Milton Keynes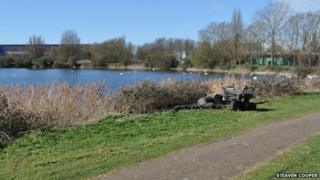 Three severed swans' heads and a swan's body have been found at a park in Milton Keynes.
The discoveries have been made over the past month at Mount Farm Lake.
Steaven Cooper, secretary of the Beacon Angling Club, said: "It was a shock to see and it's deliberate - it was a clean cut in each case. It doesn't look like it was done by an animal.
"The swans are friendly, and an easy target. I'm beginning to think people are doing it for food."
Mr Cooper, who patrols the lake regularly, said there were about 45 swans there.
'No teeth marks'
The swan's body was found separately from the heads so it is unclear if three swans or four were killed.
"We need to find out what's going on and put a stop to it as it's a public park used by families with children as well as anglers," said Mr Cooper.
"I'm used to finding dead things as fisheries officer and there were no teeth marks from another animal.
"These haven't been the prettiest sights."
Mr Cooper said he had reported the finds to police officers, who happened to be at the lake when he was there, and showed them his photographs.
He said he had been told by police it was not a matter for them, and to contact the RSPCA. He said he had reported it to the RSPCA on Monday and was waiting to hear back from the organisation.
Thames Valley Police said it had no further details.
An RSPCA spokeswoman said: "As he says he has contacted us, I am sure we will get back to him. It is something we would certainly look into.
"In the majority of such cases, it is down to animal kill, but we do not know in this case until we have looked into it."