'Fish oil' GM plant trial at Rothamsted given go-ahead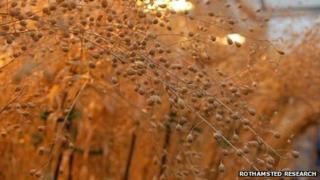 Hertfordshire scientists will be allowed to grow a genetically modified crop containing omega-3 fatty acids, the government has said.
The Department for Environment, Food and Rural Affairs (DEFRA) has given the go-ahead for field trials at Rothamsted Research Centre in Harpenden.
It means engineered plans grown in a laboratory can now be tested "under real life conditions".
The initial aim of the crop is to benefit the fish farming industry.
The trial, which is reportedly the first field trial of nutrient enriched crops in the UK, would see the fatty acids added to a crop of camelina plants.
Oily fish such as tuna, mackerel, and sardines do not produce omega-3 fatty acids naturally, but obtain them by consuming certain types of marine algae.
Currently, farmed fish are given fish oil, rather than feeding on the algae.
Rothamsted scientists believe genetically modified plants like Camelina have the potential to make fish farming more sustainable and ease the pressure on wild fish populations.
'Significant milestone'
Researchers at the centre have spent ten years designing a sustainable way to produce the oil, which is usually found in fish and has proved to be beneficial for human health and contribute to protection against coronary heart diseases.
It has successfully grown the engineered plants under laboratory conditions.
Lead project scientist, Prof Johnathan Napier, said his team was pleased they could now "test the performance of these plants in the field, under real life conditions".
"[It] means that we have reached a significant milestone in the delivery of our research programme," he said.
The controlled experiment, funded by the Biotechnology and Biological Sciences Research Council (BBSRC), will start by mid-May with the plants harvested in August or September this year.
A number of seeds from the plants will be used for analysis, while the rest will be destroyed under the conditions of the government consent.
The GM inspectorate of the Food and Environment Research Agency will be carrying out regular inspections.