Pot used by Hertfordshire family as a doorstop is valued at £30,000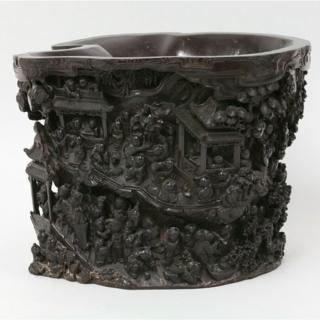 A Chinese wooden pot used as a doorstop has been valued at £30,000 after its rarity was spotted by experts.
The intricately carved brush pot had been on the floor of the owners' Hertfordshire cottage for as "long as they could remember".
Dated to the late 18th or early 19th Century, the 9in (24cm) pot has generated "phenomenal" interest, according to auctioneers Sworders.
Richard Harrison, of Sworders, said the family had been "unaware of its value".
The family, which has owned the brush pot for about 40 years, brought the item to Sworders for expert assessment.
Mr Harrison said the pot could far exceed its £20,000 to £30,000 estimate and reach a "six figure" sum.
"The pot is a rare example of Zitan artwork," he said, "and is intricately carved from a single piece of wood".
"As soon as we were able to share the details of this pot with our network in China," he said, "it became clear that interest in this piece was going to be phenomenal.
"We expect our phone bidding lines to be fully booked and we know many Chinese specialists are travelling to our auction room to be able to bid in person."
The pot depicts dozens of figures in a popular Chinese subject known as "The Hundred Boys" on the outside.
Originally, the pot would have been used to store calligraphers' brushes.
The pot's owners have not been identified. The pot will be auctioned by Sworders at its Stansted Mountfitchet sale room in Essex on 29 April.