D-Day code veteran visits Bletchley Park to see top-secret machine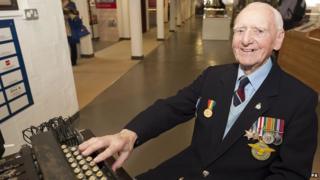 A World War Two veteran who played a key role in the D-Day landings has been to see the top-secret equipment he used to help direct aircraft over the Normandy beaches.
Sgt (Retd) Bernard Morgan, 90, saw the Type X machine at the code-breaking site, Bletchley Park, Buckinghamshire.
The machine encrypted messages that told aircraft where they were needed.
The coded messages were sent back to Britain to be acted upon and were vital in helping the RAF's air superiority.
Sgt Morgan, originally from Longsight, Manchester but who now lives in Crewe, was a 20-year-old code and cipher operator in June 1944. His unit was No. 83 Group Control Centre, part of the 2nd Tactical Air Force.
He said: "The first three days after D-Day, June 6, we were on a ship moored a few hundred yards off Gold Beach.
"We couldn't start operating our equipment because the army hadn't advanced quite as far as they'd wanted to.
"Our equipment was so highly sensitive that we couldn't risk it being captured by the enemy, otherwise everything on our unit would have to have been destroyed."
He added: "Going ashore, I was very frightened, because you'd heard and seen all the gunfire from the beaches overnight and you did not know what to expect. Everyone was frightened, because you didn't know what you were going into.
"When I look back on it, I feel very satisfied with my contribution towards the war effort, but it was only a small effort and the greatest honour must be given to the pilots."
Iain Standen, chief executive of the Bletchley Park Trust, said: "It's always an honour to welcome veterans to Bletchley Park and it was a delight to hear a first hand account from Sgt Morgan how Type X and similar machines were used in the field.
"His memories are unique and precious and a good example of the many stories we must capture while we can."
About 12,000 of the machines, which needed four men to carry them and a lorry to transport and power them, were built by the end of the war.