Sharif Demirsay murder: Court scuffle after raid teens convicted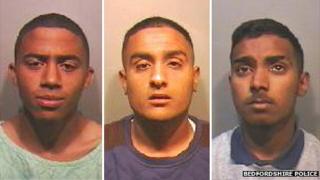 Scuffles broke out inside a court after three teenagers were found guilty of murdering a grandfather in a raid for gold and cash at his bungalow.
Sharif Demirsay, 65, was stabbed 11 times in Kempston, Bedfordshire. His partner was also stabbed.
Courtney Glynn, 19, Muhammed Rashed, 17, and Hameedur Rahman, 16, killed Mr Demirsay on 14 May.
Supporters of the teenagers and members of Mr Demirsay's family clashed on a court concourse after the verdicts.
Jo Hobbs, of Bedfordshire Police, who was at court, said "emotions were running high" after the hearing and a "scuffle" broke out, which led to officers separating the people involved.
She said no arrests were made.
Turkish-born Mr Demirsay, whose real first name was Serafettin, was killed during the three-minute raid, in which 22-carat gold bangles, rings, earrings and £1,000 in cash was taken.
'Needless violence'
The trial heard the three teenagers forced their way into Mr Demirsay's Vineyard Way home after he answered a knock at the door.
They were armed with knives when they burst in and demanded: "Where's the gold, where's the money?"
Prosecutor Jane Bickerstaff QC said he was stabbed almost immediately.
She added that the intruders appeared to "encourage" each other to stab Mr Demirsay, with shouts of "kill him".
The court heard Mr Demirsay's partner Parshini Salhotra tried to defend him by hitting one of the youths with a vacuum cleaner pipe, before she was stabbed in the arm.
Glynn, of Kempston, and Rashed and Rahman, both of Bedford, were also found guilty of unlawfully wounding Ms Salhotra.
Witness intimidation
Glynn and Rashed were convicted of aggravated burglary. Rahman had previously admitted the offence.
Glynn was also found guilty of a charge of intimidating a witness and possessing an imitation firearm with intent to cause fear of violence.
A fourth defendant, Travis Dixon-Charles, 18, who was said to have acted as a look-out outside the property, was cleared of all charges.
Speaking after the hearing, Det Insp Tim Redfearn said: "The needless level of violence used and the ferocity and merciless nature of it for so little gain beggars belief, even for an experienced murder detective.
"The killers didn't give either one of the old couple a chance to hand over what money they did have before launching into this appalling attack."
Mr Demirsay's family said in a statement that an innocent man's life had been "tragically taken" and Ms Salhotra left "severely traumatised" by what she saw.
The teenagers will be sentenced at Luton Crown Court on Friday.