Denham Aerodrome crash pilot 'may have flown too fast'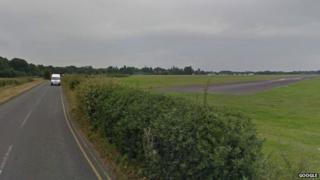 A pilot said he may have been flying too fast after his light aircraft crashed through a fence, went over a road and came to rest in a field.
The plane suffered "substantial" damage on 24 October at Denham Aerodrome, Buckinghamshire, the Air Accidents Investigation Branch (AAIB) said.
The pilot, 60, who had not flown for more than three months, was unhurt.
He told the AAIB he could have landed too quickly and fuel contamination may have caused "rough-running" engines.
The unnamed pilot, who had 1,200 hours' flying experience, said he was unable to stop his 40-year-old twin-engine plane on the runway, despite braking heavily.
He had been flying the Piper PA-34-200 Seneca back from Andrewsfield Aerodrome, Essex, where it had been serviced.