Nephew hopes to find uncle's remains 70 years after WW2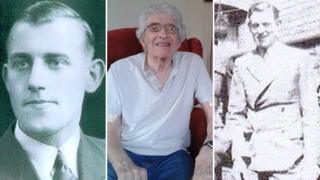 The nephew of an airman who was shot down during World War Two says he is "optimistic" his uncle could be found after 70 years.
Sgt Roland Hill, who was from Leicester, died when the Halifax bomber he was in crashed near Berlin in 1943.
His nephew, Graham Hill, from St Albans, says he hopes a project to recover the wreckage will go ahead and his uncle's remains will be found.
He said he wanted his uncle to be buried in a Berlin war cemetery.
Sgt Hill, 32, was a flight engineer and one of seven crew members to die in the crash.
His nephew said an excavation of the site was planned 10 years ago but fell through.
'Lot of wrecks'
"Now it's been taken up again and we're hoping it's going to happen," he said.
He added that a Canadian museum was overseeing the project, which would cost about £50,000.
David Keen, from the Royal Air Force Museum, said the plane came down in a wooded area with "very marshy" ground.
"The aircraft would have broken up on impact so the bodies are either scattered around or still in the aircraft," he said, adding that only two of the dead had been recovered.
"This was a very big mission, we lost 63 aircraft on that night," he said.
"There were 30 Halifax bombers like the one Roland was in that were shot down or didn't return.
"So there are still a lot of wrecks out there."