Luton Culture starts project to tell town's World War One story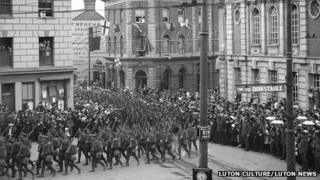 A project costing nearly £100,000 aims to chart the contribution of Luton people to World War One through stories shared by today's residents.
Luton Culture wants people to upload photos, objects and stories to its Great War Stories website.
It is hoped the interactive archive will uncover the town's history and the experiences of Lutonians' ancestors between 1914 and 1918.
"The more you add, the more we can tell the story," a spokesman said.
During the war Luton began the social and economic changes that started to turn it from a country town into the place it is today, Luton Culture said.
'Crowd-sourced'
Project leader Dave Graves said the project was important because it would help "put to bed" some notions about World War One being a purely British war.
"Over half of the army came from the territories of Empire, including over one million troops from the countries that are now Bangladesh, India and Pakistan," he said.
The project team hopes the website, funded with £96,000 from the Heritage Lottery Fund, will contain photos, maps and postcards.
"We made the site crowd-sourced, so that anybody could upload anything from anywhere," said Mr Graves.
"If you have something lurking in your attic which tells the story of your relative, upload it and it will get linked in with all the other stories to give your relative or object a full story."
Volunteers will be at a World War One exhibition in The Mall in Luton from 28-31 March to photograph and scan documents and items.