Oatridge Gardens 'sinkhole': Nearby house up for sale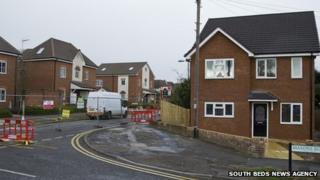 A new-build house located metres from where a giant hole appeared last month has been billed as "Property of the Week" by an estate agents.
The hole, 9m (35ft) wide and 6m (20ft) deep, opened up in Hemel Hempstead in Hertfordshire in February.
Sterling Estate Agents is advertising the detached house in Masons Road, with no mention of the hole, which is less than 50m (164ft) away.
A spokesman said it was being "totally forthcoming" with potential buyers.
The four bedroom property, which is on the market for just under £420,000, is on a plot opposite to where the hole appeared on the corner of Oatridge Gardens.
Residents in the 48 houses on the estate had to be evacuated and many have still not been able to return.
The hole was filled with foamed concrete six days later but work is still going on, and the road remains closed.
Residents have been told it is thought the hole could have been caused by mining in the area a century ago.
'Viewings planned'
The estate agents have featured the property on its website with a picture taken before the hole appeared.
Viewings were planned for this weekend, a spokesman said.
"We are being totally forthcoming with people about what happened as far as the hole appearing. We have told everyone so people are aware," the estate agent added.
The Hightown Praetorian and Churches Housing Association (HPCHA) said 10 houses around the hole were currently cordoned off and a further six were without an electricity supply.
Residents in the other 32 properties could return at any time if they choose to but they would only have an electricity supply and no gas or phone line.
Remedial work to stabilise the ground in the immediate vicinity of the hole was currently being planned and utilities could be connected once that was complete, a spokeswoman added.
This process could take up to five weeks.
Those from the cordoned off houses may have to stay away longer, but it is hoped this will be reduced.