Micah Urquhart stabbing: Two jailed for Luton killing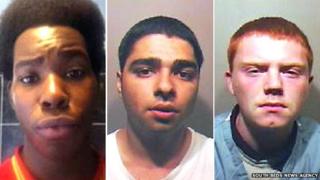 Two Luton teenagers have been jailed for killing a "vulnerable" 19-year-old whose home they had turned in to a drugs den.
Micah Urquhart was stabbed in the heart outside his flat in Hastings Street, Luton in September.
Waqar Younis, 19, of Queens Close, was found guilty of murder and jailed for life at Luton Crown Court.
Paul Lynam, 18, of Midland Road, was found guilty of manslaughter and jailed for 10 years.
The trial heard that Mr Urquhart had been in care and had spent time sectioned under the Mental Health Act.
'I will kill you'
Social workers from Hertfordshire had moved him from Hitchin to Luton in an attempt to integrate him in to society.
However, his flat fell in to disarray and became a haunt for anti-social visitors, including the two defendants who stole from their victim and dealt drugs there.
The court heard the three had fallen out in the run-up to the killing.
A neighbour, who lived below Mr Urquhart, said that on the night of the murder, he heard someone say, "If you don't open the door, I will kill you."
The jury heard the victim was put on the ground by Lynam before Younis stabbed him.
Mr Urquhart collapsed and died in Hastings Street in the early hours of 13 September.
Inquiry call
Sentencing, Judge Richard Foster told Younis "You knew [Micah Urquhart] was vulnerable and exploited it mercilessly.
"You turned his flat in to a place of squalor and used it to purchase and smoke cannabis.
"You are very dangerous and wicked."
Younis was told he will spend a minimum of 28 years in jail before being considered for parole.
Micah's brother Darren said: "We had no idea he was suffering. What happened was shocking, I can't believe people can be so evil."
He said he did not blame social services for placing Micah in the flat, but said there should be an inquiry.
"The case should be examined so that it does not happen to anyone else," he said.
Micah's father David Urquhart said: "I hope those two boys rot in jail."
His mother Delores said: "They have taken my baby. They have broken my family."
A spokesman for Hertfordshire County Council said Mr Urquhart had "on occasions" been in its care until he turned 18 in 2011.
"We had been working with him since then to try to help him find secure suitable accommodation and find his way as a young adult," a statement said.