Three convicted of tricking dementia sufferer out of life savings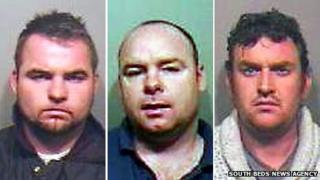 Three men have been convicted of robbing an 84-year-old woman with dementia of her £73,500 life savings by promising to help remedy shoddy work.
Brothers Hughie and Francis Doherty, who both live in Northamptonshire, had denied theft but were found guilty.
Their brother-in-law David Young, 31, of Cambridgeshire, had pleaded guilty.
Luton Crown Court heard their "fragile" victim was told to leave cash at bus stops and lay-bys in Blunham, the Bedfordshire village where she lived.
They persuaded her the cash would pay for lawyers who could reclaim money she had spent on shoddy work on her driveway.
Hughie Doherty, 31, a father of six from Newton Road, Rushden, was sentenced to five years in prison and Young, of Ermine Way, Arrington, was jailed for three-and-a-half years.
Sentencing of Francis Doherty, 36, of Gipsy Lane, Irchester, was adjourned because his barrister was not present.
'Fragile mental state'
The woman was contacted by a man called "Oliver" who told her he could reclaim money for the driveway work which had been carried out in 2004, the court was told.
She drew the money from her account and left it in envelopes at locations in Blunham but no work was carried out.
The court heard the woman's bank manager alerted her son after eight withdrawals had been made.
Bedfordshire Police set up a sting operation and arrested the three after the woman was again called by "Oliver" and told to withdraw a further £15,000.
Judge Stuart Bridge said: "The fragile mental state of the victim was perfectly apparent.
"It was an audacious fraud, carefully planned and callously executed. You realised she was easy prey.
"You were insatiable and carried on taking, taking and taking."