Milton Keynes Museum could be new home for The Point pyramid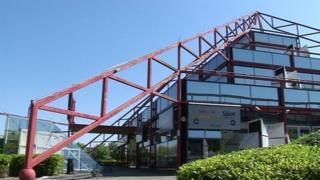 A museum has said it would look into providing a new home for a Milton Keynes landmark that is due to be knocked down.
The Point in the town centre to be demolished to make way for development.
Milton Keynes Museum director Bill Griffiths said the red pyramid structure above the building would make a "great gateway" to its Wolverton site.
Lobby group Urban Eden said there would be "huge cost implications".
The Point was built in 1985 and was one of the UK's first multiplex cinemas.
Earlier this month Milton Keynes Council granted permission for it to be demolished by developers who want to build new retail and leisure outlets.
'Iconic' building
Mr Griffiths said a new entrance building to the museum was being planned and "to have something iconic like that would be a great gateway".
"It was a landmark building, it could be seen and was like our beacon home... it has significance and if it was any other artefact we would be saying it should be kept in Milton Keynes," he said.
"It's very big and that makes it difficult to move and we would have to work that out... this is a challenge but museums like challenges."
Theo Chalmers from Urban Eden, which campaigns to protect the new town's original master plan, said he would "celebrate" the idea but that dismantling the structure, reassembling it and making it safe would cost "a humungous amount of money".
"There are huge potential cost implications .... [you would] have to rebuild it because it is basically scrap steel; none of the light fittings are there any more and the steel is rusting," he said.
"It would be a good thing but I am worried about what is actually left of the structure."