Nirah aquarium 'evidence' sought by government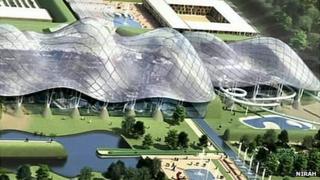 The government has warned it wants to see "evidence of progress" on a giant aquarium project, which has millions of pounds of public money invested in it.
The National Institute for Research into Aquatic Habitats (Nirah) was given the go-ahead to build the £600m site in Stewartby, Bedfordshire, in 2007, but no building work has started.
The Department for Business, Innovation and Skills said the situation was "not sustainable", having loaned Nirah £2m.
Nirah has been unavailable for comment.
The aquarium - which was originally expected to cost £375m - was muted as a scientific research centre and visitor attraction four times the size of the Eden Project in Cornwall.
It was supposed to have been built by 2012, but a lack of investment and delays has left the institute with just a few months left to start building on the former brickworks before planning permission expires.
'Assessing all options'
The government still has £2m loaned to the aquarium, with Bedford Borough and Central Bedfordshire councils owed £1.6m.
In a Freedom of Information request, it has emerged that interest on the government loan makes it worth more than £3.5m.
It is not known how much interest has accumulated on the councils' loan.
A statement from the Department for Business, Innovation and Skills said: "It remains a priority for us to continue to receive updates from Nirah and we expect them to provide us with positive evidence of progress in the near future, as the current position is not sustainable over the longer term.
"We are currently in the process of assessing all options available to the department and the consortium."
Neither the government, nor the councils, are currently seeking to recover the debt, much of which is secured against the value of the land.