Micah Urquhart stabbing: Murder accused admits scuffle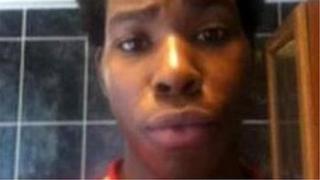 A teenager accused of murdering a "troubled man" in Luton has admitted knocking him to the ground in a scuffle outside his flat before he was stabbed.
Paul Lynam, 18, told Luton Crown Court he was then "shocked" to see Waqar Younis, 19, stab Micah Urquhart lying on the ground in Hastings Street.
Hertfordshire social workers had provided a flat for Mr Urquhart.
But it became a "haunt" for anti-social visitors, the court heard. Mr Younis and Mr Lynam both deny murder.
The prosecution alleges Mr Lynam, of Midland Road, and Mr Younis, of Queens Close, both in Luton, had fallen out with Mr Urquhart in the days leading up to his killing on 13 September last year.
Shortly before midnight, they are alleged to have gone to his flat and made threats.
Selling drugs
When he went outside, Mr Lynam said he was involved in a scuffle with Mr Urquhart before Mr Younis fatally stabbed him as he lay on the ground.
Mr Urquhart managed to get to his feet before collapsing in Hastings Street where, despite the efforts of police and paramedics, he died.
Mr Lynam was accused of taking over Mr Urquhart's flat for his drug dealing.
Prosecutor Vincent Couglin QC said: "You and Younis had taken advantage of Micah. You knew him to be vulnerable.
"You moved in and used his flat as your place to sell drugs."
Mr Lynam denied this and any involvement in the murder.
Mr Younis had earlier said he was also not involved and that the first he knew about the killing was when he saw a report on the television news.