Holiday company condemned for offering to pay school fines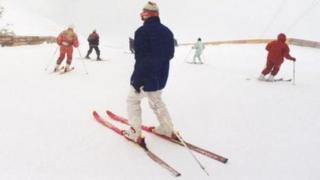 A skiing holiday company offering to pay parents' fines for taking their children away during term time has been condemned by the government.
Bedford-based operator Mountain Base said it would cover the costs of the £60 per child per parent fine.
It said it was "no different" to the offer of a free child ski pass.
The Department for Education said parents should not "discount a penalty notice from the cost of a cheaper holiday".
"Taking children out of school without permission for a holiday is a criminal offence," a statement said.
"When doing so, parents are risking prosecution which could mean much higher financial penalties and a criminal record."
Parents who do not ensure their child's regular attendance at school need to pay £60 per child per parent within 21 days or £120 within 28 days, it confirmed.
Parents' 'discretion'
The Thurleigh company, which sells breaks in the French Alps, advertised a deal on social media offering to pay any fines incurred by parents booking one of its holidays for a week in March or April.
Company boss Lee Quince said the offer was a "marketing strategy" and parents taking children out of school at any time was "solely [at] their discretion".
"What is the difference between us offering that financial incentive and another business offering an incentive of buying an adult ski pass and getting a child's ski pass free?" he said.
The offer "clearly stated" it advised parents to seek permission from schools, he added.
To date, no-one has made a booking based on the deal offered, the company said.
Katie Ibans, vice-chairman of the Campaign for Real Education said any parents who took up the offer were "the guilty party", although they were being assisted by the ski company.
"[It] is supporting parents in doing something which is illegal but you have a duty to send your child to school," she said.
"You can't expect the schools to be there for your children if your children aren't there for the school.... We are all in this together and shouldn't play the system like this."