Faruk Ali attack allegation: Bedfordshire police chief meets family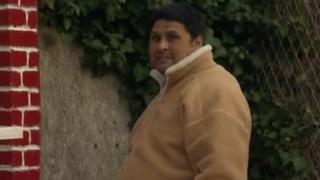 Family members of a severely autistic man who was allegedly beaten by two police officers in an unprovoked attack have met Bedfordshire's Chief Constable Colette Paul.
The alleged assault on Faruk Ali in Luton last month is being investigated by Leicestershire Police.
Mr Ali's brother Kodor Ali said it had been a "reassurance meeting to meet and greet the family".
Ms Paul said: "It was actually very cordial and, I would say, productive."
According to his family, Faruk Ali was watching refuse collectors outside his Luton home on 20 February when two officers got out of a police car and grabbed him.
'Restricted duties'
Mr Ali was allegedly injured and had his coat torn.
Bedfordshire Police said the officers had been concerned for Mr Ali's wellbeing.
They have been placed on "restricted duties".
After the meeting with Ms Paul, Kodor Ali said: "She was not in a position to answer any of our questions.
"She was not in a position to say how long this investigation was going to take."
Ms Paul said: "I answered as many questions as I could as frankly as I could, but obviously within the confines of an ongoing investigation."
She said a previous incident involving police and Mr Ali had taken place in 2011 and had been investigated.
Ms Paul said she would ask those investigating the latest incident to consider the previous investigation and what had happened since.