Nicholas Bunn convicted of raping escort worker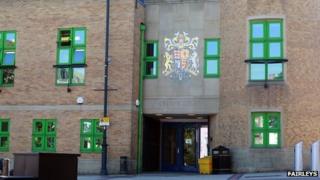 A man has been found guilty of raping a woman at knifepoint at the home he shared with his grandmother.
Nicholas Bunn, 22, contacted the woman, who worked as an escort, through an agency and agreed to pay her £430.
When the 24-year-old arrived at his house in Eight Acres, Tring, Hertfordshire, in September he got out a knife and raped her twice, Luton Crown Court heard.
Bunn was convicted on Tuesday of two counts of rape.
He was cleared of one charge of causing actual bodily harm.
Prosecutor Sally Hobson said the woman was made to perform a sex act on him at knifepoint and was then raped on his bed.
She ran from the house screaming "help me, help me, I've been raped", the court heard.
Judge Philip Bartle QC remanded Bunn in custody so probation and psychiatric reports can be prepared ahead of his sentencing in April.