Rapist George Moseley jailed for 23 years for attacks on woman and girls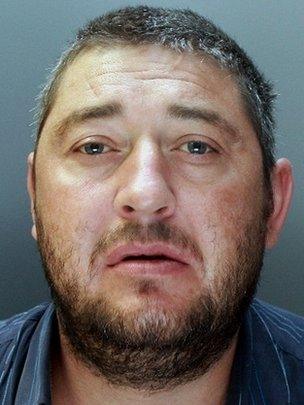 A man branded a "danger to women" has been jailed for 23 years for a series of sex attacks in Hertfordshire.
George Moseley, 38, raped a young girl, sexually abused another and raped and physically abused a woman in Watford.
His sentence was extended for a further four years so that even if released early he will be supervised by probation officers until he is aged 65.
At St Albans Crown Court, Judge Stephen Gullick said he was a significant risk to women. "You're dangerous," he added.
Moseley, of Charlemont Drive, March in Cambridgeshire, was convicted of causing actual bodily harm to a woman between 1 June 2001 and 24 August 2012.
He was also convicted of the rape of the woman between 1 May 2004 and 24 August 2012, unlawfully wounding her with a mug between 1 January 2010 and 31 December 2010 and unlawfully wounding her with a Stanley knife between 1 November 2010 and 30 January 2011.
He was convicted of the rape of a child between 2 May 2004 and 1 May 2008 and rape of the same child between the same dates.
He was found guilty of inciting another girl aged 13 to engage in sexual activity between 4 September 2007 and 3 September 2008.
Moseley, who still maintains his innocence, claimed there had been a conspiracy by his accusers.
Judge Gullick said: "The woman victim said you had 'No soul, no mercy, no compassion, no conscience'."
Related Internet Links
The BBC is not responsible for the content of external sites.