Last cones for 'longest serving' ice cream man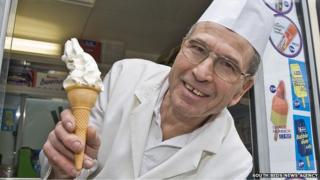 An ice cream man who has been serving cones for almost 50 years has decided to retire.
Paul Salamone, 75, from Watford, was recognised as being the longest-serving ice cream man in the world last year by Guinness World Records.
The Italian owner of Tonino & Son said he planned to "get away from work and do and see things I haven't done before".
His six-van fleet will be passed down to his family.
Mr Salamone first started selling cones and ices when he moved to England with his wife in 1965.
His experience paid off last year when he also sealed the record for making the world's tallest ice cream whip at 18cm (7in) - four centimetres higher than the previous record holder, TV personality Paul O'Grady.
"As soon as I came over to the UK, I saw an ice cream van and knew that was what I wanted to do," he said.
"I will miss the people. I have been here since the '60s and have served grandmothers, mothers, children and their children."