Luton-Dunstable busway: £600 a week sign an 'unwanted' cost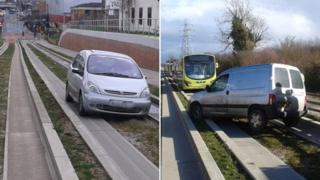 A matrix sign, costing £600 a week, to prevent illegal access to a guided busway in Bedfordshire has been branded an "unwanted" cost by a council.
Several vehicles have driven onto the Luton-Dunstable busway since it opened despite drivers risking a £1,000 fine.
About three vehicles a week had been seen on the £91m route since September.
Two have been recorded since the sign was installed in January, but it is expenditure the council would "rather not incur", it said.
A council spokesman blamed drivers' inattention for ending up on the busway, but some drivers challenging the fine have said they were led there by sat navs.
The Labour-run council is trying to cut £54m from budgets over the next few years and said it was trying to eliminate "unwanted" expenditure.
The authority said its signage along the eight-mile (13.4km) guided route on a stretch of former railway line from Luton to Dunstable had been adequate from the start.
"There is simply no excuse for attempting to drive along the busway," the spokesman added.
"Anyone who is looking where they are going would see that there is no road to drive on."
The council was continuing to monitor the situation using CCTV and anyone ignoring the signs faced licence endorsements, a fine and an order for compensation to make good any damage.
This story has been amended in the light of new information from Luton Borough Council.