Sharif Demirsay murder case: Accused 'admitted stabbing' to friend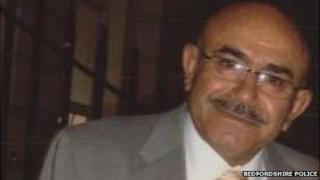 A 19-year-old accused of the murder of a grandfather in his home told a friend he "stabbed the man", a jury has heard.
Courtney Glynn is one of four teenagers accused of killing Sharif Demirsay, 65, at his bungalow in Kempston, Bedfordshire, last May.
All four, aged 16 to 19, deny the murder of Turkish-born Mr Demirsay who died from a stab wound to the heart.
Daniela Ruggiero, 20, told Luton Crown Court, Mr Glynn said he attacked the victim after three of them barged in.
The defendants, including Travis Dixon-Charles, 18, and two youths aged 16 and 17, who cannot be named for legal reasons, are accused of killing Mr Demirsay in the hallway of his home during a raid looking for gold and money.
Mr Demirsay who lived with his partner Parshini Salhotra, was stabbed 11 times last May after answering a knock at his door around 21:30 BST and died later.
The prosecution allege three of the defendants, each armed with a knife, pushed their way into his home and attacked him, while one remained outside as a "lookout."
'Barged in'
Miss Ruggiero told the court she saw Mr Glynn some days after Mr Demirsay's murder.
She said the accused told her that he and Mr Dixon-Charles, along with the 16-year-old, had gone to Mr Demirsay's home and knocked on the door which was opened by the victim.
"He barged his way in and he said the man tried strangling him and he stabbed the man," Miss Ruggiero said.
Jane Bickerstaff QC, prosecuting, asked her if Mr Glynn had said whether anyone else stabbed the victim, and she replied that he then told her: "Travis".
Mr Glynn also told her the 16-year-old took the gold before all three ran off, she said.
All of the defendants deny murder. Mr Dixon-Charles, Mr Glynn and the 17-year-old also deny aggravated burglary.
All four defendants deny unlawfully wounding Mr Demirsay's partner, Parshini Salhotra, who was also stabbed.
The trial continues.