Micah Urquhart stabbing: Teenager 'murdered after row'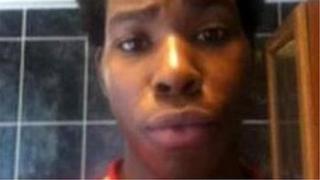 A troubled teenager was stabbed in the heart near his home by two other teenagers after a row, a court heard.
Micah Urquhart's Luton flat had become a haunt for "anti-social" visitors, the town's crown court was told.
Paul Lynam, 18, and Waqar Younis, 19, fell out with Mr Urquhart, 19, in the days before his killing on 13 September last year, the jury heard.
Mr Lynam, of Midland Road, Luton, and Mr Younis, of Queens Close, Luton, both deny his murder.
Tensions had increased and threats were made in the days before Mr Urquhart's death, it was claimed.
Vincent Coughlin, prosecuting, told the jury: "We say these two decided to take matters into their own hands.
"Shortly before midnight they made their way to Hastings Street together."
'Intended to harm'
Mr Coughlin said another young man saw Mr Lynam in a scuffle with Mr Urquhart, who went to the ground.
The witness said he then saw Mr Younis deliver what he thought were punches to Mr Urquhart, who managed to stagger down the street before eventually collapsing.
"He had been stabbed in the heart and, despite the efforts of the police and paramedics, he died within a short distance of where he lived," said Mr Coughlin.
He said the attack was planned and both defendants intended to cause "really serious harm" to Mr Urquhart.
The court heard Mr Urquhart, who had been in care, had been moved to shared accommodation and then his own flat in Hastings Street by social workers.
But, the jury was told, he was "barely able to cope with living on his own" and the flat fell into disarray.
The court heard the relationship between Mr Urquhart and the accused deteriorated.
Windows at the flat were broken, along with a gate outside, and items from inside were taken, said the prosecutor.
Mr Younis was said to have threatened Mr Urquhart with a knife.
Police received a complaint that Mr Urquhart had thrown bricks through windows at Mr Younis' parents' home.
The case continues.