Jacob Epstein Watford Museum sculptures thief jailed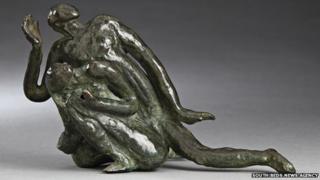 A man who stole two sculptures by Sir Jacob Epstein from Watford Museum has been jailed for 30 months.
Allen Buckley, 45, of Caractacus Cottage View, Watford, took the bronze statues worth £43,000 in an "opportunist" theft last July.
They were later found by police wrapped in a bin bag in the back of a car, St Albans Crown Court heard.
Neil Williams, 44, of no fixed address, admitted theft at an earlier hearing and is due to be sentenced in December.
A third man, Graeme Rowe, 58, of Jellicoe Road, was given a 20-month prison sentence, suspended for two years, after he admitted handling stolen goods.
He had been paid £100 to store the sculptures, Adam and Eve and Burial of Abel, but had no idea of their value, the court heard.
David Smithet, defending Rowe, said: "When he Googled them and realised their value, he rang the person who approached him and said he no longer wanted to look after them.
"Before they could be taken from him the police arrived."
'Scavenger'
The sculptures were found in the back of Rowe's car on 30 July, 17 days after the theft.
Judge John Plumstead described Buckley as a "scavenger" with an appalling record of petty crime.
"The objects you stole were for public enjoyment in a museum," he said. "It was a very serious theft indeed."
Rowe was given a suspended sentence because of health problems.
Williams was not at the sentencing because he is in hospital.
Watford Museum said the sculptures are not currently on display.