Milton Keynes Hospital banned patient who 'complained too much'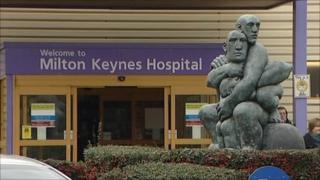 Milton Keynes Hospital must apologise to a patient it banned after she made too many complaints, the health service ombudsman has said.
The woman's complaints over a number of years included 35 emails and 56 phone calls during April and May last year.
Her level of contact had become "untenable" and she could only attend for urgent care, the hospital said.
The watchdog concluded the ban was "unreasonable". The hospital said it had "learned a lot".
'Lost in system'
The 29-year-old patient, who wished to remain anonymous and has an ongoing medical condition, told the BBC care at the hospital was sometimes of a "very low standard".
She submitted a series of complaints, including about having to dress her own skin condition on a ward. She also repeatedly asked for a promised care management plan.
The woman confirmed the communication figures but said: "Sometimes if they didn't respond to an email, after a few days I would send the same email again in case it had got lost in the system.
"I hoped care would be improved and they would learn from mistakes."
The hospital first told her the level of contact had "become untenable" in October 2011 and asked her to put the concerns into one complaint.
In July last year, a letter from chief operating officer Darren Leech said it was his duty to protect staff from violent and abusive behaviour and said the patient's actions "would no longer be tolerated".
He said the hospital would only see her if she required urgent treatment or had a meeting or appointment previously arranged in writing.
But later the patient was told she could only attend in "an urgent life-threatening emergency".
Not abusive
Upholding her complaint, the health ombudsman concluded the hospital was right to try and manage contact between the two parties, but its action was "unreasonable".
Investigator Katy Mackinlay said the patient's levels of contact "could be considered unreasonable" but access to services should not have been denied.
The report also said she was not violent and abusive but had been sent a standard letter.
Hospital chief executive Joe Harrison said: "This is the first time we have had to take such a step and as a result of the ombudsman's helpful response the organisation has learned a lot."
The hospital has a month to lift its restrictions.