Hemel Hempstead street hole: Residents in closed results meeting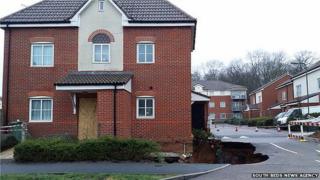 Residents made homeless when a large hole appeared in a Hertfordshire street are to be told the results of a geo-technical survey at a closed meeting.
The hole, 35ft (9m) wide and 20ft (6m) deep, opened up in Oatridge Gardens, Hemel Hempstead on 15 February.
Six days later it was filled with foamed concrete and 60 investigation shafts were drilled around the estate to ascertain the size of the problem.
Residents from affected homes want survey results revealed only to them.
Housing association Hightown said their loss adjuster and Dr Clive Edmonds, an engineering geologist who has overseen the investigations and remedial work, will address the meeting once results have been analysed.
Possessions retrieved
"In the meantime, we are working closely with utility providers to reinstate services so most residents can move back into their homes as soon as possible," the housing association said.
"Residents of 32 homes are able to return at any time. We have provided them with electric heaters until the gas supply is reconnected."
Others have chosen to stay with family and friends or in hotel accommodation locally.
The residents of the houses within the cordon have all been able to access their homes to retrieve possessions.
Dr Edmonds said it could take several months to establish an exact cause for the hole, but he believed it was likely caused by mining in the area a century ago.