Sharif Demirsay murder case: Accused 'saw old man die'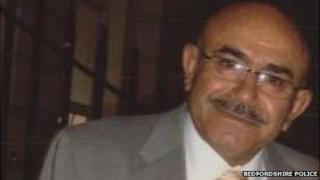 A 17-year-old boy accused of the murder of a man in his home told a friend he saw the "old man die" but had not done anything himself, a jury has heard.
Sharif Demirsay, 65, died from a stab wound to the heart at his bungalow in Kempston, Bedfordshire, last May.
Four teenagers, aged 16 to 19, deny the murder of Turkish-born Mr Demirsay.
A man has told Luton Crown Court the 17-year-old defendant had phoned him on the night of the stabbing, "breathing funny like he was in shock".
The teenagers are accused of killing Mr Demirsay in the hallway of his Vineyard Way home during a raid for gold and money on 14 May.
'Teens present'
Shortly before the killing, Travis Dixon-Charles, 18, Courtney Glynn, 19, and a 17-year-old youth who cannot be named, were seen in the smoking hut of Bedford College talking excitedly of "a load of gold in Kempston", the trial has heard.
Also on trial is a 16-year-old boy who cannot be named for legal reasons.
Giving evidence from behind a screen, an 18-year-old man said he was very good friends with the 17-year-old and also knew the 16-year-old defendant.
He told the court his friend spoke "about what had happened" the day after Mr Demirsay was killed.
"He said he went there and saw the old man die and he didn't do nothing there," he told the court.
"I believe him and know for a fact he wouldn't do nothing."
The man said he learned from his friend that the 16-year-old defendant had also been present at Mr Demirsay's home.
All of the defendants deny murder. Mr Dixon-Charles, Mr Glynn and the 17-year-old also deny aggravated burglary.
All four defendants deny unlawfully wounding Mr Demirsay's partner, Parshini Salhotra, who was also stabbed.
The trial continues.