Barnfield Federation probe: MPs call for parliamentary debate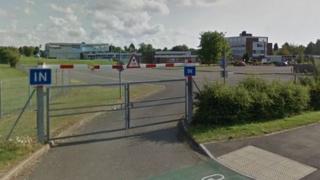 MPs have called for a parliamentary debate into a schools group after two government departments produced highly critical reports.
Labour's Gavin Shuker, MP for Luton South, and Kelvin Hopkins, MP for Luton North, have called for the debate into the Barnfield Federation.
The group was ordered to make changes after concerns were raised over governance and financial mismanagement.
Barnfield said it was tackling the issues raised by the government.
The government wrote to the Hertfordshire-based group, which runs academies and a college in Bedfordshire, ordering it to address "immediate weaknesses".
'Failed projects'
It warned it would "not hesitate" to take further action unless there was "significant improvement".
Barnfield oversees Barnfield College, Moorlands Free School, the Barnfield Skills Academy, all in Luton, and the schools in the Barnfield Academy Trust.
A Skills Funding Agency (SFA) report, seen by the BBC, found Barnfield College wrongly claimed nearly £1m for students it could not account for.
It found the federation had massively overspent, wasting money on failed projects, including a hair studio.
The federation spent £8,000 on plaques bearing the names of former director general Sir Peter Birkett. It also spent excessive amounts on alcohol for end-of-term parties and a "significant amount of chocolate".
A government spokesman said: "We will monitor progress closely and if there is not significant improvement we will not hesitate to take further action.
"This government has taken swift action to address concerns at Barnfield and it further illustrates the strong accountability systems we have put in place to protect public funds."
Mr Shuker said: "One of the reasons we will apply for a cross-party debate on the situation at Barnfield is because we need to put this stuff in the public arena and hold the government to account for the actions that they have already taken."
He said the problems at Barnfield raised important questions of accountability.
"If it was not for the whistleblowers coming forward and getting heard by the Department for Education then none of this would have come to light."
A spokesman for Barnfield said: "We are tackling the issues raised by the report with the single aim of ensuring that Barnfield is a strong, fit-for-purpose education provider that puts its students, parents and staff at the forefront of its thinking and actions."