Suspected chemical leak at Bishop's Stortford school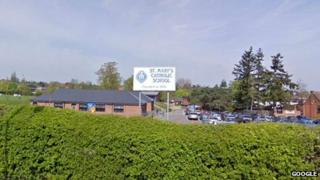 Two adults and a child have been taken to hospital after a suspected chemical leak at a Hertfordshire school.
Up to 33 people complained of breathing difficulties at St Mary's Catholic School in Windhill, Bishop's Stortford, at about 11:15 GMT.
Ambulance crews took two adults to hospital with "minor conditions" and treated others at the scene.
It is understood a child was taken to hospital by a parent but was later discharged and returned to school.
Science lesson
In a statement on the school's website, headteacher Anthony Sharpe said: "In lesson one this morning there was a chemical incident due to a substance being heated for longer than was prescribed.
"As a result of this, precautionary measures are being taken by the school to make sure that staff and students involved are safe and well.
"We do not want to cause any alarm but wanted to reassure you that the necessary health and safety procedures have been instigated and we will be in contact with you should there be any further development."
Mr Sharpe told the BBC the incident happened in a science lesson involving a class of 15 and 16-year-olds and that one child and two adults had been taken to hospital.
A spokeswoman for the East of England Ambulance Service NHS Trust said resources, including the hazardous area response team, had been sent to the scene after people had complained of "bronchial inflammation due to suspected chemical inhalation".
It said seven further patients had "minor complaints".