Barnfield Federation probe: Sweeping changes needed, says government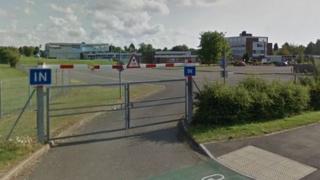 A schools group has been ordered to make sweeping changes after serious concerns were raised about governance and financial mismanagement.
The government has written to the Hertfordshire-based Barnfield Federation saying "immediate weaknesses" must be addressed.
The announcement was made after police ended their inquiry and said no action was being taken against Barnfield.
Barnfield runs academies and a college in Bedfordshire.
The Department for Education (DfE) wrote to Barnfield earlier this month warning the government would intervene if a number of issues were not addressed.
'Financial mismanagement'
Barnfield oversees Barnfield College, Moorlands Free School, the Barnfield Skills Academy, all in Luton, and the schools in the Barnfield Academy Trust.
A Skills Funding Agency (SFA) report, seen by the BBC, found Barnfield College wrongly claimed nearly £1m for students it could not account for plus other examples of financial mismanagement.
A whistleblower came forward in August last year with allegations relating to financial irregularities and governance at Barnfield and Hertfordshire Police started an investigation.
Inquiries were also started by SFA and the Education Funding Agency (EFA).
Following the police's decision to end the inquiry, the DfE published details of its investigations and a letter to Barnfield's leaders from ministers asking for confirmation immediate action was being taken.
The EFA's review found evidence of "significant financial irregularity".
'Serious concerns'
A second report by the SFA, focusing on Barnfield College, found a lack of oversight by the governors of the organisation.
It also suggested errors had led to a former principal of the college leaving with a larger settlement than he was contractually entitled to.
In their letter to Barnfield, the ministers said the investigations and follow-up work had identified "serious concerns about the federation as a whole".
It added: "It is clear that new leadership and governance are urgently needed at Barnfield, including a new interim CEO of the Federation."
It has been announced that former college chief Dame Jackie Fisher is to take on this role.
Dame Jackie said: "We are tackling the issues raised by the report with the single aim of ensuring that Barnfield is a strong, fit-for-purpose education provider that puts its students, parents and staff at the forefront of its thinking and actions.
"Our efforts over the next few months will be to identify and deliver the best possible shape and structure for the Federation, the college and our academies."