Darius Henderson found not guilty over bar fight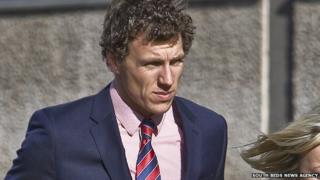 A Championship footballer has been cleared of causing grievous bodily harm after knocking a man to the ground at a restaurant.
Nottingham Forest striker Darius Henderson, 32, hit John Bell in Darcy's in St Albans on 1 January 2012, leaving him needing surgery.
Mr Henderson told St Albans Crown Court he threw two punches because he believed he was going to be attacked.
He cried in the dock as the jury found him not guilty.
Mr Henderson, from Markyate, Hertfordshire, and his girlfriend Lucy Caplan had been having a meal at the restaurant before going into the bar, where Hazel Kent, 48, approached Ms Caplan.
She claimed to have slept with Mr Henderson on more than one occasion, the court had heard.
Mr Henderson said there was absolutely no truth in what she said and he had never met her.
The jury was told Mr Henderson had been "upset and angered" and 42-year-old Mr Bell - who did not know Ms Kent - approached the footballer at 01:30 GMT on 1 January.
Mr Henderson, who was playing for Millwall at the time, said Mr Bell had told him he was going to make him apologise to Ms Kent and would "use a bottle if I need to".
Mr Henderson said he threw two punches when the older man refused to go away and the second knocked him to the floor.
Mr Bell was left with a fractured cheek bone.
Recorder Simon Sterling told Mr Henderson, who had his head in his hands, that he was free to go.
He granted him a costs order, meaning that his legal fees will be paid.