Hemel Hempstead sinkhole: Residents face two weeks away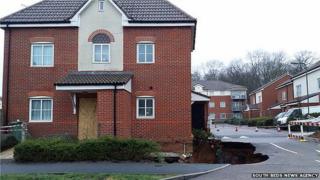 Nearly two weeks after a giant hole appeared in a Hemel Hempstead street, some residents are still unable to return to their homes.
The hole, about 35ft (9m) wide and 20ft (6m) deep, opened up in Oatridge Gardens on 15 February.
A housing association hopes most people will be able to return in about two weeks but those in six properties will need to stay away longer.
It said it needed to check the stability of the ground.
The hole was filled in last Friday but tests are under way to see if utilities can be restored to the majority of properties.
The Hightown Praetorian and Churches Housing Association (HPCHA) said there were 48 houses on the estate and residents in 32 of them could return at any time if they choose to but they would only have an electricity supply and no gas.
Of the remaining properties, some do not have electricity or gas so HPCHA is recommending they do not return, although they are free to collect possessions.
It has arranged temporary accommodation for those wanting to stay away and has provided electric heaters for those who return.
Residents in the six houses directly around the hole will have to stay away longer so that the structure of the houses can be assessed and HPCHA said it was arranging longer term accommodation for them.
'Probing' under way
HPCHA chief executive David Bogle said "probing" on the estate would tell them the ground conditions up to 15m down.
"We need to be sure about the ground conditions and the stability of the properties," he said.
"Then take any remedial work to reassure people about safety."
He said they hoped to have preliminary results by Monday which would allow the gas to be reconnected and the majority of residents to return.
Resident David Ketley, who has been living in a hotel, said he had been told he may be able to move back in after 11 March if the reports were positive.
"A lot of people just want to go back to their homes but at the same time we understand that there is a new gas line which may need to go in, and even if they need to reconnect the old gas line that could be problematic," he said.
Preliminary investigations by an engineering geologist have shown the hole was probably caused by mining in the area a century ago.