Milton Keynes National Bowl plans £26m indoor water park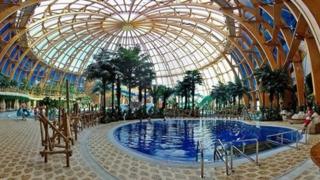 Plans have been announced for a £26m indoor water park and sports village at the National Bowl in Milton Keynes.
It is the first major scheme at the concert venue, designed in Hollywood Bowl style, since it was built in 1973.
The bowl is an open-air amphitheatre that has previously attracted artists like Bon Jovi, Eminem, Oasis and Robbie Williams.
Milton Keynes Development Partnership (MKDP) chair John Duggan said it would become a "major tourist attraction".
The bowl is built on the site of a former brick pit which was filled in with soil from other developments around Milton Keynes.
Public consultation
The council regards the 65,000 capacity National Bowl as "a significantly underused leisure facility" and wants to turn it into a year-round venue.
The investment company has presented a plan to create the "UK's largest" indoor water park.
It also wants to include a range of sports facilities and enhancements to the arena which MKDP says will help "improve its competitive position as a major UK event venue".
The council hopes the facilities will also be attractive as a training base for one of the nations taking part in the Rugby World Cup next year.
A new HQ for Badminton England, which has already been granted planning permission, will also be built as part of the development.
Mr Duggan said: "Proposals offer an exciting opportunity to enhance MK's leisure offer and provide a major tourist attraction that will boost Milton Keynes' profile as a vibrant and exciting place to live and visit."
MKPD has granted Moirai Capital preferred bidder status for the development.
The proposals will go before council planners at a later date.