Sheila Sampford did not kill husband in 'act of mercy', judge rules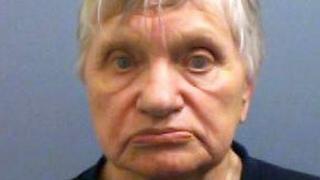 A pensioner who admitted strangling her terminally ill husband did not act out of mercy, a judge has ruled.
Sheila Sampford, 75, of Milton Keynes, pleaded guilty in January to the murder of John Sampford, 83, last July.
She told a Luton Crown Court hearing her husband had leukaemia and she acted out of "love and devotion" to end his suffering.
But Judge Richard Foster said she snapped under immense pressure and sentenced her to life imprisonment.
She must serve a minimum term of nine years.
The court hearing to consider mitigating circumstances heard Mr Sampford was found dead at the couple's terraced home in Spoonley Wood, Bancroft Park, on 5 July.
'End the suffering'
Sampford told the court the couple, who married in 1963, had been talking about ways of taking his life because he "just wanted to be released".
"I took John's life because it is something we had decided, to end his suffering," she said.
"It was through love and devotion. It was not selfish.
"John woke up and said "now is the time". I agreed and strangled him."
She told the court her husband did not struggle, remained "very peaceful and quiet" and his final words to her were, "I love you".
Prosecutor Neil Moore said the defendant called emergency services just before 06:30 BST and said: "I just murdered my husband."
He said she told the operator she had strangled him, she could not "think straight" and it had "all got too much".
The court heard police found Mr Sampford upstairs, on a bed with two pillows over his head and a bandage tied around his neck. He had blood on his face.
Sampford was arrested for murder and told officers she "just snapped" and it was "a cry for help".
In her cell she told the watch officer: "I am guilty. I have nothing to hide."
'Treatment going well'
Mr Sampford was diagnosed with leukaemia on 6 June and told he had months to live.
Judge Foster told Sampford it was clear her husband had taken the news well and had given no indication that he wanted to end his life.
"There was clearly some hope he might survive for some months," he said.
"The treatment seems to have been going well. He was positive."
The judge said he had no doubt she had "snapped" while under enormous pressure caused by his losing battle with leukaemia, her own health problems and worries for the future.
Passing sentence he said: "All the mitigating factors don't retract from the evil of what you have done. You took away a man's life prematurely.
"What you did in particular was to deprive your daughter of the opportunity to say goodbye to him, and for him to say goodbye to her."