John Jenkins: Aylesbury conman builder jailed in absence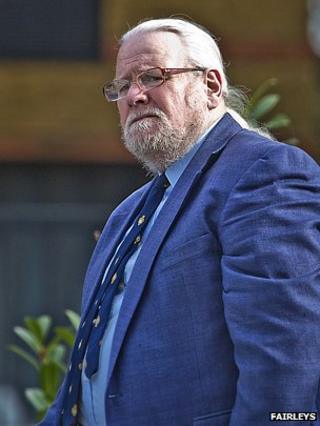 A builder who conned a "vulnerable and lonely" Hertfordshire widow out of £532,695 has been jailed for six years in his absence.
John Jenkins, 70, from Aylesbury, Bucks, failed to turn up for the last day of his trial at St Albans Crown Court on Monday.
Josephine Stubbings paid Jenkins from 2008 to 2011 for work a surveyor said should have cost no more than £60,000.
The jury found Jenkins guilty of fraud by false representation.
When Jenkins did not appear at court the judge, Recorder Simon Sterling, issued a warrant for his arrest.
After the jury delivered its verdict, Recorder Sterling told them Jenkins had called his lawyer Andrew Campbell on Sunday in a distressed state.
His girlfriend sent a text to Mr Campbell on Monday saying Jenkins went out on Sunday night and had not come back.
A third message sent to Mr Campbell said Jenkins was out of the country and did not intend to come back.
'Extraordinary spending sprees'
The court heard Jenkins befriended Josephine Stubbings, 67, from Berkhamsted, who was described in court as a likeable eccentric with underlying mental health issues.
During the trial, the court was told Jenkins spent tens of thousands of pounds of the victim's money on 19 holidays to Spain and the United States and on shopping trips.
Prosecutor Michael Speak said: "He relentlessly spent the money. He went on the most extraordinary spending sprees day after day after day."
He said Mrs Stubbings was a "vulnerable lady" who was "trusting in ways she should not be" and "easily persuaded".
Jenkins, of Poets Chase, Aylesbury, worked as a general purpose builder, but by 2008 had either stopped working, had run out of work or was semi-retired, the court heard.
Mrs Stubbings had seen his "defunct" advert in the Yellow Pages and contacted him to carry out work on drains at her home.
'Borrow food money'
"Mr Jenkins realised this was a golden opportunity to make money dishonestly," said Mr Speak.
"He persuaded Mrs Stubbings to have an endless succession of work on her house. The defendant invented preposterous charges for this work, amounting to thousands and thousands of pounds.
"She trusted him and did not have a clear grasp of the situation. Sadly, she thought he was her friend - in reality he was anything but."
The jury was told Mrs Stubbings' losses were revealed in November 2011 when she called on her neighbour and asked to borrow some money for food.
Sentencing him, Recorder Sterling said Jenkins had seen the opportunity to do work at Mrs Stubbings' home as the "vehicle for the fraud."
He said Jenkins had "cynically exploited" Mrs Stubbings, who he knew was a vulnerable victim.