Nottingham Forest striker Darius Henderson 'knocked man to ground'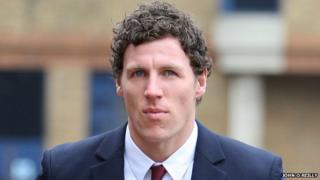 A man was left with a fractured cheek bone when a Championship striker knocked him to the ground in an assault on New Year's Day, a court heard.
St Albans Crown Court heard Nottingham Forest player Darius Henderson hit John Bell at a restaurant on 1 January 2012, leaving him needing surgery.
It heard the attack came after a woman claiming to have slept with the player approached his girlfriend.
Mr Henderson denies inflicting grievous bodily harm.
The court heard Mr Henderson, 32, from Markyate, Hertfordshire, was "upset and angered" after the woman approached his girlfriend Lucy Caplan in the Darcy restaurant in St Albans, claiming to have slept with him on more than one occasion.
The jury was told Mr Bell - who did not know the woman, Hazel Kent - later stepped in to diffuse the situation and was attacked by the footballer.
Prosecutor Alan Richards said there was "no reason to believe" the claims by Miss Kent, 48, were "anything other than pure fiction".
'No threat'
The court was told that Miss Kent said she could describe Mr Henderson's home and correctly identified the brand of his boxer shorts.
"Understandably this upset Miss Caplan and perhaps caused some tension between her and Mr Henderson," said Mr Richards.
At 01:30 GMT on 1 January, Mr Bell, who did not know Miss Kent, approached Mr Henderson as he stood by the bar, the jury heard.
The barman was said to be under the impression that Mr Bell was trying to calm the situation down.
Mr Richards: "It is possible that his intervention caused Mr Henderson, who was already, the Crown say, upset and angered, by Miss Kent's behaviour, to perceive Mr Bell as somehow associated with her."
He told the jury it was "absolutely clear" that the "significantly smaller and less athletic" Mr Bell "posed no threat to Mr Henderson whatsoever".
CCTV footage was shown to the jury at St Albans Crown Court which showed Mr Bell being knocked to the ground.
The jury were told he suffered a fractured check that required surgery to free a trapped nerve and treatment for a cut.
The trial continues.