Builder John Jenkins, accused of exploiting widow, 'duped'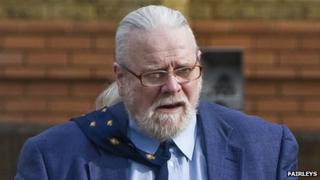 A builder accused of stealing more than £500,000 from a widow in Hertfordshire has told a jury he was duped.
John Jenkins, 70, "lined his pockets" with Josephine Stubbings' savings, St Albans Crown Court has been told.
Mr Jenkins, of Aylesbury, Bucks, denies the theft of £532,695 and fraud by false representation.
Giving evidence, Mr Jenkins blamed sub-contractors he had called in to do jobs. He said he "had been duped as much as anybody else".
'Manipulated and exploited'
The jury has heard Mr Jenkins spent tens of thousands of pounds of Mrs Stubbings' money on holidays to Spain and the United States and on shopping trips.
Prosecutor Michael Speak said: "He relentlessly spent the money. He went on the most extraordinary spend sprees day after day after day."
Mr Speak told the jury that Mrs Stubbings, from Berkhamsted, "is a little eccentric with underlying mental health issues. She is a likeable lady.
"She is trusting in ways she should not be and is easily persuaded to do things in a way which none of you would do."
He claimed Mr Jenkins had "manipulated and exploited her".
When cross-examined Mr Jenkins agreed that a minimum of £532,000 had passed through his bank accounts, but said he only received 15% of the money that was paid over, saying he had paid the sub-contractors in cash.
He claimed that there was "nothing sinister" in the fact that he had eight active bank accounts.
The case continues.