Sharif Demirsay murder trial: Accused shouted 'kill him'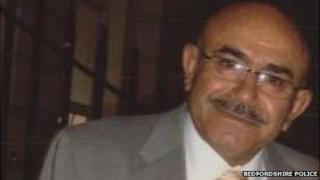 Three teenagers appeared to "encourage" each other to stab a grandfather and shouted "kill him" while burgling his Bedfordshire home, a court has heard.
Courtney Glynn, 19, and two boys, aged 17 and 16, deny murdering Sharif Demirsay, 65, in Kempston last May.
Prosecutor Jane Bickerstaff QC told Luton Crown Court Mr Demirsay's partner saw the attack and was also stabbed.
The jury heard Travis Dixon-Charles, 18, who is also accused of murder, acted as a "lookout" outside.
Turkish-born Mr Demirsay, whose real first name was Serafettin, was killed during a three-minute evening raid for gold and money at his Vineyard Way bungalow on 14 May, the jury heard.
'Jumping like animals'
Ms Bickerstaff said Mr Demirsay answered a knock at the door at about 21:30 BST and three men, with long knives and hoods to cover their faces, pushed themselves into the property while Mr Dixon-Charles waited outside as a look-out.
She said Mr Demirsay's partner saw him being stabbed almost immediately, with the men saying, "Where's the gold, where's the money?"
Ms Bickerstaff added the victim, a former chef and father of seven, was then held down on the floor and kicked and stabbed with "two or three knives".
She said: "His partner describes how all three were shouting 'kill him' and jumping up and down like animals. It was as if they were encouraging each other to kill him."
The 69-year-old woman then tried to defend Mr Demirsay by hitting one of the youths with a vacuum cleaner pipe, before she was stabbed in the arm, the court heard.
The men then ran off with money and jewellery. The 65-year-old, who was stabbed 11 times in total, died in hospital an hour later.
Commenting on the "joint enterprise offences", Ms Bickerstaff said: "It matters not what particular role each of the four took, e.g. one remained outside as a look-out and only one actually emptied the handbag. They were in it together and are all in law equally responsible."
All four defendants deny murder and unlawfully wounding Mr Demirsay's partner.
Mr Glynn, Mr Dixon-Charles and the 17-year-old boy also deny aggravated burglary. Mr Glynn has pleaded not guilty to intimidation and possessing an imitation firearm with intent to cause fear of violence.
The trial continues.