Luton Borough Council agrees 1.5% council tax rise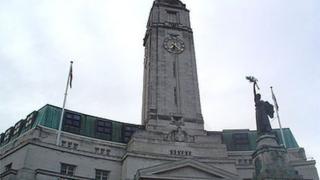 Luton Borough Council has agreed a council tax increase of 1.5% for the next financial year.
It means the average bill for people living in a band B property will go up by just over £14 per year, or 27p a week.
A further 1.5% increase is expected for 2015/16. Last year, the tax rose by 2%.
The Labour-run council said it had saved £54m over the past three years but expected a need to save a further £52m by 2019.
For the third year running, the council declined a government grant which would allow it to freeze council tax because it said this would create a shortfall in its finances in future years.
'Neediest people'
Head of finance Dave Kempson said making the authority less reliant on government grants was a key part of its financial strategy.
"That is because the level of additional income [a council tax rise] generates is greater than that achievable from accepting the tax freeze grant, which in turn additionally reduces the ongoing savings requirement," he said.
Mr Kempson added the council would maintain the Council Tax Support Scheme for 2014/15 on essentially the same basis as the former government-run Council Tax Benefit Scheme, despite the ongoing reduction in government funding to support it, "to protect the neediest people".
The council's budget for 2014/15, which was set at a full council meeting on Wednesday, includes savings and additional income of £18.3m.
These include the reduction of 58 posts, 16 of which are currently vacant.
The council currently employs 3,000 people, excluding schools' staff.
It said there would also be ongoing benefits from renegotiated contracts and "transforming how the council delivers its services".
An additional £2m spending to meet increased demand for adult social care services has also been confirmed.