Watford Hospital falls short in four areas, the Care Quality Commission says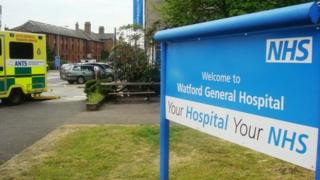 The health watchdog has told bosses at Watford General Hospital they must make improvements in four out of five national standards.
Inspectors from the Care Quality Commission (CQC) raised concerns about infection control, staffing, record keeping and risk management.
The unannounced visit focussed on four departments and, in one case, dried blood stains were found on a floor.
A hospital spokeswoman said "work was underway" to address the concerns.
The routine visit, which took place in December, looked at the emergency department, the Acute Assessment Unit (AAU,) and various wards including those which deal with dementia and orthopaedics.
As well as concerns over cleanliness, inspectors also found records of care were not well maintained and there was a shortage of staff in the AAU.
The report said it found two cases where patient files contained papers relating to other people.
It said: "We found blood test results and a request for a scan in the records that were not for the person whose records were being examined."
However, it also found the organisation to be "well led" and that management had responded positively to areas of concern.
'Action plan'
The hospital's Chief Executive, Samantha Jones said the trust had submitted a "detailed action plan" to the CQC after it had "raised a number of minor concerns".
"We were already aware of many of the issues raised by the CQC and work was underway to address them," she said.
"This includes a decision taken by the trust board last summer to spend an additional £3.9m a year to recruit 160 extra nurses.
"We have also put in place new training for our staff and our senior nurses undertake formal spot checks to ensure our wards and clinics are clean."
She added the commission's findings also highlighted many strengths, including patients being treated with respect and involving them in discussions about their care and treatment.
"The CQC reported good feedback from the patients they met, with often very complimentary remarks about the attention and attitude of our staff towards them," she said.