Lister Surgicentre payouts 'disgraceful', says Hertfordshire Healthwatch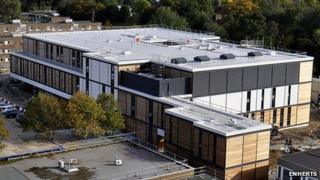 Millions of pounds of public money was given to the owner of a failed private clinic to pay for redundancies and loss of earnings, the BBC can reveal.
The Surgicentre at Stevenage's Lister Hospital was put under NHS control in September after a host of problems.
The Department of Health's £6.7m payout to ex-owner Clinicenta also included money to pay loan breakage costs.
A patients' group called it "disgraceful". Clinicenta has declined to comment.
The Surgicentre was opened in 2011 and run by Clinicenta - the subsidiary of building company Carillion - to carry out operations in areas such as ear, nose and throat for NHS patients.
In April 2012, Care Quality Commission (CQC) inspectors failed the centre in four out of five areas and the following August, GPs were told not to refer patients to the eye department because of worrying waiting times.
'Massive failures'
Three people undergoing routine surgery for joint conditions also died unexpectedly, sparking investigations by Hertfordshire NHS and the CQC.
Last August, it was announced the clinic would be bought by the Department of Health and renamed the Treatment Centre under the control of the NHS.
A Freedom of Information (FOI) request to the Department for Health has now revealed that Clinicenta was also given £3.7m to pay for staff redundancies, the winding-up of the service and to cover the loss of earnings in the three years its contract still had to run.
The department also paid £3m towards the breakage cost of a loan Clinicenta took out with Barclays to fund the building's construction.
Michael Downing, vice-chair of patients' group Hertfordshire Healthwatch, said: "It is absolutely disgraceful, and I speak not only in my capacity but as someone who had personal experience of the incompetence of the way in which the Surgicentre was run.
"They should be compensating the NHS users of Hertfordshire for their mismanagement."
Joanna Weiss at union Unison, added: "I think local people will be extremely angry to find out that nearly £4m of their hard-earned cash has been given to this private company to reward them for their massive failures."
In relation to the loan breakage costs, the Department for Health said: "The Secretary of State for Health was contractually obliged to pay for the breaking of those financing agreements, and following termination of the Surgicentre contract, the building is now owned and operated by the NHS."