Builder John Jenkins 'exploited' widow, court told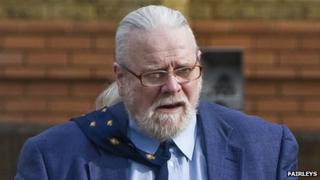 A builder "manipulated and exploited" a vulnerable and lonely widow, charging more than £500,000 for work that should have cost £60,000, a court heard.
John Jenkins, 70, "lined his pockets" with Josephine Stubbings' savings, St Albans Crown Court was told.
Mr Jenkins, of Aylesbury, Bucks, spent tens of thousands of pounds of her money on foreign holidays and shopping trips, the jury heard.
He denies theft of £532,695 and fraud by false representation.
The jury heard Mrs Stubbings, 67, was befriended by the builder.
Prosecutor Michael Speak told the jury the widow was vulnerable, eccentric and likeable, but that she also had underlying mental health issues.
"She is trusting in ways she should not be and is easily persuaded to do things which none of you would do," he said.
Mr Jenkins had worked as a general builder, but by 2008 had either stopped working, had run out of work or was semi-retired.
Mrs Stubbings had seen his "defunct" advert in the Yellow Pages and contacted him to carry out a job at her modest home in Berkhamsted, Hertfordshire.
She lived a frugal existence, but, through investments made by herself and her late husband, had managed to "salt away" well over £500,000, the prosecutor said.
"Mr Jenkins realised this was a golden opportunity to make money dishonestly," he added.
'Buy a Jaguar'
He claims Mr Jenkins invented "preposterous" charges for his work.
"She trusted him and did not have a clear grasp of the situation. Sadly, she thought he was a friend - in reality, he was anything but," said Mr Speak.
Mr Jenkins "relentlessly" spent her money, he said, once taking her to a car dealership where he tried to persuade her to buy him a Jaguar.
He failed, but she did buy him a Peugeot.
The jury was told Mrs Stubbings' losses were revealed in November 2011 after she asked to borrow money for food from a neighbour.
When Mr Jenkins was first interviewed, he said Mrs Stubbings' house was in an appalling state of repair when he went there.
'He swindled me'
He said he had got Mrs Stubbings out of her shell and cheered her up. "He depicted himself as the Good Samaritan," said Mr Speak.
When police examined six bank accounts belonging to Mr Jenkins, they found she had paid him a total of £530,000.
A surveyor calculated the value of the work at no more than £60,000.
In pre-recorded video evidence, Mrs Stubbings said: "Although he swindled me, I don't bear him any animosity. He swindled me out of a lot of money. He has taken a lot of money."
She said she was given no invoices or receipts for the work, and thought she had paid him about £150,000.
Mr Jenkins denies theft and fraud by false representation between 1 April 2008 and 31 December 2011.
The case continues.