Bedfordshire PCC Olly Martins: Criminal investigation launched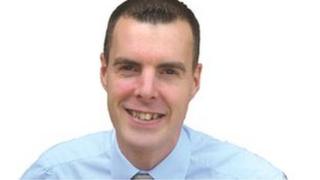 Bedfordshire's police and crime commissioner is to face a criminal investigation over the disclosure of "confidential information".
Labour's Olly Martins admitted passing information about the death in custody of Leon Briggs, 39, to a Home Office worker and received a written warning.
He now faces a criminal investigation overseen by the Independent Police Complaints Commission (IPCC).
A separate IPCC investigation is being held into the death of Mr Briggs.
Father-of-two Mr Briggs, of Ashburnham Road, Luton, was arrested on 4 November following concerns raised by members of the public.
'A conduct matter'
He became ill at Luton police station and was taken to Luton and Dunstable Hospital, where he died.
Seven members of Bedfordshire Police staff, including five police officers, have been suspended.
Earlier this month, the IPCC told the force and the county's police and crime panel to refer the issue of the information disclosure to it.
Mr Martins will be interviewed under caution as part of the criminal investigation, which will be overseen by IPCC Commissioner James Dipple-Johnstone.
"I am satisfied from the information we have at this time that the disclosure should be recorded as a conduct matter," he said.
"Not least because of the concern this matter will have caused to Mr Briggs' family and the local community means, there must be a fully-independent investigation to determine the full circumstances of that disclosure.
"Our investigation will be independent, thorough, and I want to reassure the community it will not detract from our important work investigating what happened to Mr Briggs in police custody."