Bletchley waterlogged cemetery 'not fit for animals'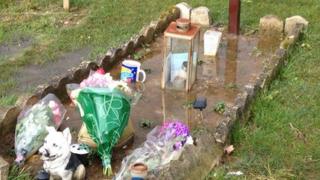 A waterlogged cemetery is "not fit for an animal burial" until a council fixes the drainage, a mourner has said.
Graves at Selbourne Avenue in Bletchley, Buckinghamshire, are regularly waterlogged, with recent heavy rain making the problem worse.
Milton Keynes Council agreed last year to invest £50,000. It told the BBC it was due to meet with contractors.
Bernadette Morgan, who tends her father Richard's grave, said burials should be halted.
"It's heartbreaking - you can't even go and visit your loved one," she added.
"It's not fit for an animal to be buried there at the moment.
"When it rains, it is totally waterlogged, it's boggy so you can't lay flowers down.
"People are still being buried there - that should be stopped until the problem is sorted.
"To them it's a plot of land, to me it's my dad's garden."
'So disrespectful'
Labour councillor Mick Legg said the situation was "a disgrace" and a cemetery established on clay soil was "always going to need proper drainage".
"It is so disrespectful not to address the state of the cemetery," he said, adding that relatives deserved an apology.
A spokesman for Milton Keynes Council, which is led by a minority Conservative administration, said it was looking into scanning below ground to map out drainage channels.
He added the council had previously cut back excessive foliage to expose the drainage system.
"There of course has been extremely widely unprecedented rainfall, not just in Milton Keynes, but across the country," he said.
"This has not only exacerbated the situation, but also makes it impossible to get any staff and equipment on site to carry out any remedial work."