Gainsborough portrait discovered in St Albans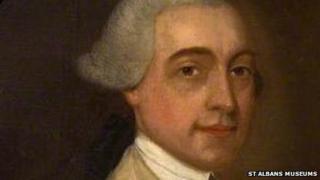 An 18th Century portrait of a provincial mayor has been identified as a previously unknown oil painting by Thomas Gainsborough.
The portrait of Joseph Gape has been on loan to St Albans Museums since 1968 and was listed as by an unknown artist.
Gape was mayor of the Hertfordshire town three times over a spell of 50 years in the 18th Century.
An investigation by the BBC One programme Fake or Fortune revealed the portrait was painted by Gainsborough.
Museum curator Catherine Newley said the portrait, which was in storage, is now back on display.
'Very exciting'
Fake or Fortune art detective Philip Mould investigated the portrait, one of 17,500 "unattributed" oil paintings in UK public art collections catalogued on the BBC Your Paintings website.
Gainsborough (1727-1788) expert Hugh Belsey told the programme the 62 x 54.7cm painting was by the artist and was created in "about 1762".
The landscape and portrait painter, who was born in Sudbury in Suffolk, is considered one of Britain's greatest artists.
Miss Newley declined to speculate about the portrait's value and said: "It's an interesting painting anyway, as he's an interesting man - but to have that extra layer of knowing who's painted the portrait, and it's Gainsborough, is just great."
In 1968, Gape's descendents loaned the portrait to St Albans Museums.
It was most recently on display in 2008 as part of an exhibition, but since then has been in storage.
Its current owner Judy Pearson said "it is very exciting indeed" to discover her relative was painted by Gainsborough, but added the portrait would remain on loan to the museum.