Ashwell residents call for poll in St Mary's church chimes row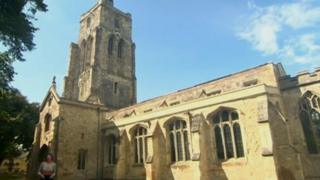 Residents of a Hertfordshire village, who do not want its church chimes silenced at night, are calling for a referendum over the issue.
Ashwell parish council agreed in December to turn off St Mary's chimes following complaints about sleep disturbance from those living nearby.
It said the majority of villagers did not mind if they were silenced.
Save the Bells campaigners dispute this and want villagers' views legally "captured".
A spokesman said 15 supporters were required to call for a referendum and it had told the parish council it would be demanding one at its March meeting.
Chimes campaigner Chris Pack said: "It's been mooted in the village that people don't care about the bells [not] ringing, I know that to be untrue.
"If we have a referendum that asks people if they wish the bells to remain as they are and that referendum is overwhelming, we have the support there and it is captured legally."
He added legal advice would also be sought to overturn any decision which turned the bells off.
None of the complainants could be reached for comment.
'Watching brief'
The St Mary's bells, which chime through its clock mechanism, have been ringing since about 1896.
Complaints about them chiming every 15 minutes were investigated by North Herts District Council (NHDC).
In August, it said it had received about 12 complaints and was "legally obliged" to investigate the issue.
It decided they were "prejudicial to health" but hoped the matter could be resolved within the community, without formal action.
The parish council took the decision to silence them between 23:00 and 06:00 to avoid being issued with a noise abatement notice by the council, although they have not yet been turned off.
It is awaiting permission from the archdiocese in St Albans to install a timing mechanism and has launched an appeal to raise the £1,900 cost.
Parish council chairman Peter Long said if the required number of people wanted a "parish poll" it would have to have one.
Councillor Bernard Lovewell from NHDC said it was "keeping a watching brief on developments".