MPs' concerns after Watford hospital NHS rules breach patients die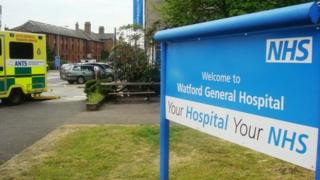 MPs have expressed concern that two cancer patients died and 121 cases need to be reviewed after failures to provide follow-up appointments at a hospital.
Watford General Hospital has reviewed its breach of NHS rules over follow-ups in the case of 810 cancer patients.
Hemel Hempstead MP Mike Penning and five other Hertfordshire MPs said a national review was needed.
The West Hertfordshire NHS Trust said two managers had been suspended.
The trust started an internal review of the process for monitoring patients referred to the hospital with suspected cancer.
Of 810 patients reviewed, 686 have been told there were no clinical concerns, while 121 were still being reviewed.
'Badly let down'
It said the care of three patients, including two who have died, was comprised.
In one case in which a patient died, the trust said it was thought a delay in seeing them might have contributed to their death.
The trust is in the process of contacting the family of a second patient who has since died. That patient had advanced cancer at the stage the initial referral was made.
In another case, a patient had their diagnosis delayed due to errors but their cancer was found at an early stage.
Conservative MP Mr Penning said: "I am shocked to learn that Hemel Hempstead cancer patients have been allowed to slip through the net due to the incorrect use of procedures. They have been badly let down and it is very upsetting.
"A national review is needed to make sure that the problem is not being repeated elsewhere and that no more patients are let down in this way.
"I commend current chief executive (of the trust) Samantha Jones and her team for discovering the problem and facing it head-on to ensure that no more patients suffer the same breakdown in their care."
A letter signed by MPs, Mr Penning, Richard Harrington (Watford), Anne Main (St Albans), David Gauke (South West Herts) and James Clappison (Hertsmere) said: "There is absolutely no doubt that the trust's failure to follow the correct administrative process for urgent referrals is unacceptable, and deeply wrong.
"That there have been such tragic consequences makes this so much worse and, first and foremost, our thoughts must be with the people personally affected by this and the families who have been contacted with this news in recent weeks.
"The serious question that needs to be asked is why this was not picked up earlier."
The letter was also given the backing of Hitchin and Harpenden MP Peter Lilley who urged the Secretary of State for Health Jeremy Hunt to check that similar problems do not exist in other trusts.