Watford hospital NHS rules breach patients die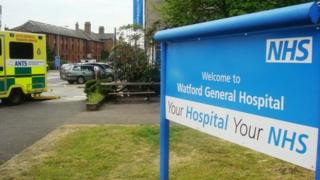 Two cancer patients died after failing to be given follow-up appointments at Watford General Hospital, in breach of NHS rules, a report has found.
West Hertfordshire NHS Trust started an internal review of the process for monitoring patients referred to the hospital with suspected cancer.
Of 810 patients reviewed, 686 have been told there are no clinical concerns, while 121 are still being reviewed.
It says the care of three patients was compromised, two of whom have died.
A spokeswoman for the trust said one of these patient's "diagnosis was delayed because of the proper process not being followed, however, their cancer was still found at the earliest stage. We have apologised for the delay".
She added: "We have also met the family of a patient who has since died. Our clinical view is that a delay in seeing the patient may have contributed to their death, but it is not certain.
"We are also in the process of contacting the family of another patient who has since died. Sadly, this patient was already at an advanced stage of their illness when the initial referral was made. We have offered our sincerest apologies to both of these families."
Two managers have been suspended.
The trust said a number of measures have been put in place following the review:
A new IT system to track each patient's appointments, missed appointments and cancellations
Weekly meetings to review the overall management of all referrals and appointments
Retraining and better supervision of staff
Daily review of all patients who miss a booked cancer appointment to ensure they receive a new appointment
Samantha Jones, chief executive of the trust, said: "These concerns date back a number of years and were identified as part of the new management team's commitment to improve the way we administer and manage patient care. I would like to apologise to each and every patient who has been affected and particularly to the relatives of those who have since died.
"We have, of course, made significant changes to help prevent this ever happening again and will share the outcome of our investigations with those affected and with the wider public."