PCSO James McIvor sentenced over police helicopter laser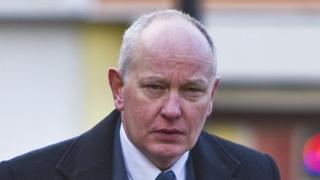 A PCSO who claimed he was looking for a cat when he was caught shining a laser pen beam at a police helicopter has been given a two-year community order.
James McIvor, 53, of Icknield Way, Luton, was convicted in December of acting in a negligent manner to endanger the safety of an aircraft.
Luton Crown Court heard the helicopter had been hovering above McIvor's home.
McIvor, who faces a police disciplinary hearing later in February, was also ordered to pay £3,500 in costs.
He was acquitted of a charge of recklessly endangering the safety of an aircraft.
The court heard that McIvor, who has been a PCSO with British Transport Police since 2008, had shone the green laser at the helicopter in the early hours of 20 May last year.
The aircraft had been deployed over the Marsh Farm estate in Luton following reports of a shooting.
'Lose everything'
The court was told the light had dazzled the crew of three and forced the pilot to take evasive action, turning the helicopter "out of harm's way".
Police officers on the ground traced the source of the beam to the PCSO's home, where they found McIvor outside.
He told officers he had been using the laser pen to attract the attention of his elderly cat that was on top of the garage.
Sentencing McIvor, Judge Philip Bartle said: "If the pilot is blinded by the light, he can't steer it into position - he might not know if he is the right way round.
"Fortunately because of his skill, no harm was done to the helicopter and the crew."
Defending, Martin Robertshaw said his client was highly regarded by colleagues and friends and had devoted his life to working in the community.
He added that McIvor faced a "substantial risk" he would "lose everything" at the disciplinary hearing.